Water Damage and Mold Removal in Kane County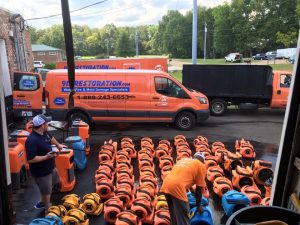 When water damage or a mold infestation strikes, it can be costly both in time and in finances to fix. That's why the sooner you begin your emergency restoration, the lower the impact on your property and your wallet. Water damage can weaken the condition of your floors and walls, as well as ruin your belongings depending on where the the source of the water damage lies.
Besides the obvious effects that water damage presents, it can also lead to mold. The longer your environment stays damp the more likely that your property will suffer from a mold infestation. Mold not only eats away at the organic materials within your property, but it can also affect your health.
Fortunately, both problems can be easily addressed. When water damage occurs or if you suspect mold don't wait to call the emergency restoration experts at 911 Restoration of Wichita. We'll be there within 45 minutes after receiving your call.
Emergency Water Restoration Services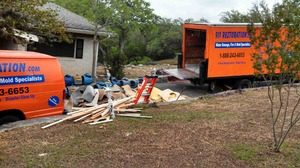 Beginning your water restoration promptly saves you in the long run. Water damage can occur at any time, which is why at 911 Restoration, we make sure we're available 24/7/365. Upon arriving onto the scene, we immediately make sure the source of the water damage is neutralized. Once the source is stopped, we can begin on you water restoration starting with a visual inspection.
Once you have approved and signed off on the estimate we provide to you, we begin working to restore your property back to perfect. With us you get the best in water restoration services as every member of our crew is licensed, insured, bonded, and IICRC certified. In addition, we don't believe in cutting corners so only the latest equipment and techniques are used to extract your excess water.
Remember the worst thing you can do is let accumulated water sit and pool. The longer the water stands, the greater the chance for mold removal to be needed. Since mold comes with its own set of problems, you would need a mold removal team to properly handle your mold remediation.
So You Need Mold Remediation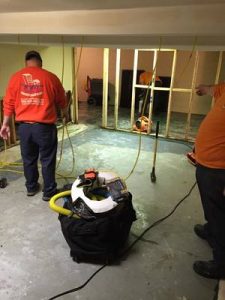 Mold damages your property by eating away at all organic materials that make up your property. This includes support beams, carpet, drywall, and other similar materials. This can greatly weaken the integrity of your property structure resulting in costly repairs if left unchecked. Besides the property damage, mold also can affect the health of the occupants within the property.
When mold is agitated, mold spores can be released and become airborne. When this happens, it can enter a person's lungs and cause headaches. It also can spread the area of contamination by growing away from the original source. This is why calling your mold removal experts at 911 Restoration of Wichita cannot wait. As soon you think there is mold, make the call and the team will be out within 45 minutes to begin the visual inspection.
We offer a full comprehensive set of services for your mold removal. Everything from mold testing to mold remediation is offered. To minimize the health risks, we use only the most advanced equipment such as vapor barriers and other containment measures to contain the mold while we perform the mold removal.
911 Restoration of Wichita operates locally so we can guarantee our promise to be there for you within 45 minutes of your call. Regardless if you live in Aurora, Elgin, or Hampshire you can rest easy knowing that we have your back. Every member of our crew is IICRC certified, granting a degree of expertise that can't be replicated. We promise expedient expert restoration services whether you need mold removal, fire damage restoration, or any other emergency restoration service.
Proudly serving Kane County and the surrounding cities:
Aurora

Batavia

B

ig Rock

Burlington

Campton Hills

Carpentersville

Elgin

Geneva

Hampshire

Kaneville

Maple Park

Montgomery

North Aurora

Pingree Grove

South Elgin

St. Charles

Sugar Grove

West Dundee