Water Damage and Mold Removal in Kane County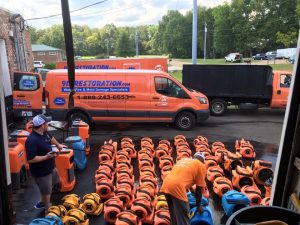 Water damage can be devastating and costly when it strikes your property. It can be due to a leaky pipe behind your wall or a ruptured appliance hose. In the middle of winter, during cold temperatures, your property can suffer from a frozen pipe and ultimately burst. Burst pipes result in immediate flooding making a flood cleanup crucial to your water damage restoration.
Water damage can destroy your flooring, walls, furniture, and belongings that come into contact with the water. It also can cause secondary damage by creating a perfect breeding ground for mold and fungi. Mold needs just 24 hours to start growing and eating away at the organic materials within your home as well as present health concerns like breathing issues and headaches.
Due to the serious nature of water damage and mold, you need professional water restoration specialists or mold removal experts. For unmatched service, call the team at 911 Restoration of Schaumburg for all of your emergency restoration needs. We guarantee to arrive within 45 minutes of your call whether you live in Aurora or out in Sugar Grove.
Dealing With A Water Damage Emergency
Whether sudden or built up over time, water damage is an emergency situation that needs to be addressed immediately to mitigate the long-term impact of the excess water. That's why the first step is to identify and stop the source of the water damage if possible. Water restoration services can be needed any time day or night, which is why our technicians stay available 24/7/365 to help you with your water removal needs. After arriving, we start with our visual inspection to determine the extent of the damage to your property.
Our technicians are IICRC certified and receive additional training so that they are fully prepared to handle your water restoration no matter the source. We refuse to cut corners, which is why we use the latest water extraction equipment and commercial dryers to get your property dry as quickly as possible.
True restoration is not just drying the property out. It requires repairing the damage so the emergency doesn't happen again. Our comprehensive service includes:
Free visual inspection for property owners only

Storm Repairs

Burst pipe repair

Roof repair

Storage services

Leak repair

Complete home restoration

Insurance assistance

And more
The key to a successful water restoration is to act quickly. The longer the water has to sit and pool, the more likely it will be that you need mold removal services. Get ahead of your water damage today by calling the technicians at 911 Restoration. We'll be there within 45 minutes to give you a Fresh Start.
Why Do I Need Mold Remediation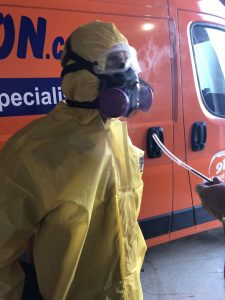 Mold can grow subtly over time making it difficult to detect before it becomes a problem. There are a few warning signs to watch out for to determine if you might have mold. If you notice that you have crumbling drywall or there is a stale and pungent odor present then you might have a mold infestation. The longer the mold has to grow, the more costly the damage will be.
Don't try to clean the mold yourself as it will only make the problem worse. The scrubbing and cleaning motions used to clean a surface agitates the mold spores causing them to become airborne. When this happens, all that has been accomplished is the spreading of the contaminated area and doesn't stop the mold from reoccurring.
Our mold removal experts use the latest containment measures and vapor barriers to keep the mold from spreading while using our cleaning process. Once the mold is contained, industrial grade detergents are used to clean away the mold. No mold remediation is complete without performing any necessary water extraction so that the mold cannot come back.
Because mold can affect a person's health, we offer third-party mold testing for our customers to make sure that the mold on the property is not toxic. That's why in addition to our containment measures, we make sure every one of our IICRC certified technicians uses the latest safety measures so your health isn't at risk.
911 Restoration of Schaumburg is locally owned and operated giving us unmatched availability for the residents of Kane County. Whether you're in Maple Park or Montgomery we are only 45 minutes away. No matter what restoration service you need, our technicians have you covered. Call today for your Fresh Start!
Servicing cities of:
Aurora

Batavia

Big Rock

Burlington

Campton Hills

Carpentersville

Elgin

Geneva

Hampshire

Kaneville

Maple Park

Montgomery

North Aurora

Pingree Grove

South Elgin

St. Charles

Sugar Grove

West Dundee

And surrounding areas