Water Damage Schaumburg
911 Restoration of Schaumburg
At 911 Restoration of Schaumburg, we're committed to providing exceptional restoration services for homeowners and businesses throughout the Schaumburg area. As a result, our IICRC certified, licensed, bonded and insured technicians are available to reliably cleanup and remove damages as a result of excessive moisture, mold growth, sewage backup and additional disaster restorations. Within 45 minutes of your initial call, we'll have crews dispatched to your home or business to quickly and efficiently perform restoration services, to minimize site damages and daily disruptions.
For our customer's convenience, the trained experts at 911 Restoration of Schaumburg are available for emergency services 24 hours per day, seven days per week, 365 days per year.
The friendly, trained and certified technicians can assist you with water damages and flood cleanup as well as:
Water extraction and drying
Remediation of all water damage
Mold spore testing services
Mildew deodorizations
Fungi and mold infestation decontamination
Toilet overflow sanitation
Black water cleanup
Deodorizations services
Smoke stain cleanup and odor removal
Cleanup of tar and ash residue
Overall comprehensive disaster restoration
When your home or business experiences damages and requires water damage restoration services, call the professionals at 911 Restoration of Schaumburg. We'll send a dependable team to your location immediately and can provide emergency after hour services and free inspections.
Water Damage Restoration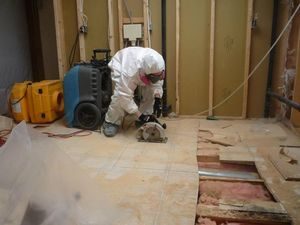 Whether your water damage is the result of a burst pipe, flooded basement or ceiling leak, the experts at 911 Restoration of Schaumburg can quickly assess the site and begin correcting the damages. When you quickly resolve the cause of water damage and begin restoration efforts you better protect your family's health and safety, preserve personal belongings and reduce further property and structural damages. Time is a critical factor when resolving water damage and in addition to lessening damage you want to prevent mold growth. Within 48 hours following water damage, mold growth can begin. By calling the technicians at 911 Restoration of Schaumburg immediately following signs of water leaks or flooding, you can minimize overall damage and prevent unwanted mold growth.
When you trust the trained, insured and certified technicians at 911 Restoration of Schaumburg you can expect your cleanup project to be performed with industry-leading equipment and practical knowledge and skills to complete your restoration correctly the first time.
By trusting your local Schaumburg experts, you're guaranteed the flooded or damaged areas of your home or business have all excess water removed, any secondary damages have been identified and the area has been properly dried and treated to prevent mold growth. Within 45 minutes of your call, we'll have a skilled team of professionals dispatched to your home to quickly give you a fresh start. Call us today to get started.
Mold Removal Services
When you experience a heavy storm leaving your roof vulnerable or unexpected flooding, our team understands how critical it is to ensure your home or building is free of excess moisture to prevent mold growth.
In the event your house has a mold infestation, our experts can quickly and reliably remove the buildup. Mold growth can lead to health risks and property damage.
In addition to our removal services, our team is available year-round for preventative inspections of your home or business to assess and evaluate your space for excess moisture and the potential for unwanted mold growth. For homeowners and businesses located in Schaumburg, this step is crucial where local weather is often marked by rain and winter storms where moisture can easily accumulate.
Call your local Schaumburg mold removal experts today — we can even provide customers with a free visual mold inspection for added peace of mind.
Sewage Backup Cleaning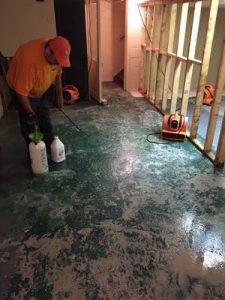 For local residents, sewage backup from a septic system or a broken or damaged pipe can be common. As you might expect, these unpleasant damages can lead to extensive damages and pose health risks for your family and the community.
To avoid unnecessary illnesses and hassle, immediately call the professionals at 911 Restoration of Schaumburg to quickly respond to your sewage backup and safely remove the excess blackwater and affected materials. Our trained professionals will first locate your main water line and shut it off immediately to prevent additional blackwater from entering your home or yard. With our services we then use advanced water extraction techniques and drying machinery to then properly and safely remove all blackwater and waste from your property.
Our sewage backup cleanup Schaumburg team puts all of our customers first for an easy customer experience and we assure you that we'll use the best and most comprehensive tools and techniques to properly and safely restore your home or business to its pristine condition. Call our professionals today for the quickest and most reliable sewage cleanup in the Schaumburg area!
Disaster Restoration Services
Not only do the trained professional at 911 Restoration of Schaumburg expertly handle a wide range of water damage cleanup services, but we also provide disaster restoration resources, including mold spore and mildew testing, decontamination and deodorization, toilet overflow sanitation and ash and tar cleanup.
When your home or business experiences unexpected disaster damages, not only will you need to quickly schedule remediation services, but you'll also be expected to communicate all cleanup efforts to your insurance company. As an added convenience for all of our Schaumburg customers, in addition to our comprehensive water remediation services, we can also handle all communications with your insurance provider. Our capable professionals will file the claim with your insurance company and take care of all communications during cleanup and handle any follow up tasks.
If your insurance policy will not cover the cleanup and remediation costs for the water damages experienced at your home or business, you'll have the peace of mind that the services provided at 911 Restoration of Schaumburg are affordable, so you never have to choose between safety and cost.
For residents and business owners of Schaumburg, trust the expertise and capabilities of the professionals at 911 Restoration of Schaumburg. In addition to providing exceptional disaster restoration services, we offer fair and affordable rates and can assist you in filing and managing your insurance claim.
Fire Restoration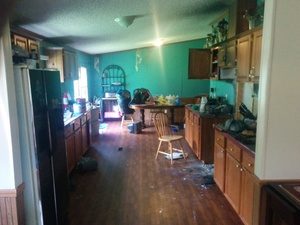 Fire damage often provokes a line of questions: who do I call after a fire in my home? Does homeowners insurance cover fire damage? Is my property safe to live in if only a few rooms were affected by a fire? Therefore, 911 Restoration of Schaumburg has put together the Fire Information Center – a service that will answer all your fire restoration questions. Being in the industry for over a decade and working with all insurance companies has given us all the experience and training we need to keep you informed throughout the fire damage restoration and smoke removal process.
Homeowners insurance does cover fire damage and will often pay for rent in a hotel or temporary home during the fire damage restoration process. We will be happy to deal with your insurance company and bill them directly for you. Call 911 Restoration of Schaumburg for fire restoration and answers to all related questions.