Mold Removal in Schaumburg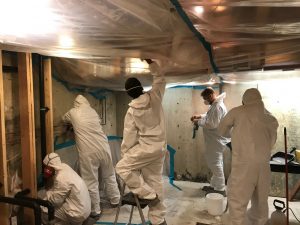 When allowed to manifest, sitting water can cause a lot more than many property owners realize. The most common cause behind mold and fungal infestations is water damage. Due to the fact that the infestations can cause serious health issues and structural damage, it is important to call the team of mold removal experts at 911 Restoration of Schaumburg.
Mold and fungal infestations should be dealt with by professionals who have proper training and equipment to provide removal services. At 911 Restoration of Schaumburg, the highly trained IICRC technicians are equipped to handle mold removal and water damage issues of any size. Our team is available 24/7, 365 days per year. So, when you suspect the residential or commercial property is suffering from an infestation, call the mold removal experts to schedule an appointment. They will arrive at the property and begin by assessing the damage. Once the damage has been examined, mold removal and water damage restoration services will be provided in order to get you back to pre-damage condition.
Dealing with a mold infestation can be highly stressful. At 911 Restoration of Schaumburg, our mold removal experts know and understand this. Our goal is to provide complete property restoration, while also restoring your peace of mind in the process. When you place your property in our hands, we treat it as if it were our own.
Call the mold removal experts in Schaumburg today to get on the path to a fresh start.
Mold Infestations – Signs and Symptoms Your Property Needs Restoration Services
In order for mold to begin forming in a residential or commercial property, it needs to be exposed to the following: mold spores, a food source, darkness, warmth, oxygen, moisture and time. However, the key ingredient to a mold infestation is moisture. Which is why receiving water damage restoration services after issues like a burst pipe or flooded basement is so important.
Mold infestations in a property can be the result of many different reasons. Each factor behind an infestation is unique and will require mold removal services tailored to the circumstance. Common factors that can cause infestations and the need for mold removal include:
Humidity. If you live or own a business in a humid area, you may notice mold beginning to colonize over the period of a few humid days. Especially when it rains for a few days. Mold can colonize on walls, benches and other surfaces throughout a property. Humidity feeds mold and can also create water puddles which can later cause mold infestations. If you live in a humid area, mold removal services may be required more often than not at your property.
Burst or leaking pipes. Water damage caused by burst or leaking pipes can often lead to mold infestations. Sometimes, these leaks can occur out of sight and in areas like behind the walls which make them hard to detect. The mold removal team at 911 Restoration knows the signs and symptoms of mold growth and will be able to restore the property in the event mold growth has occurred in a hard to reach area.
Poor Ventilation. A residential or commercial property that has poor ventilation can create stagnant moist for infestations to grow. In order to avoid the need for mold removal, make sure the property, especially steamy areas such as the bathroom and kitchen, are ventilated.
Wet clothes. When clothes are wet, mold can begin to form on them. In addition, mold can grow on other surfaces due to the moisture wet clothing releases into a property.
Flooding. When a resident or commercial property has experienced flooding, it will more than likely need mold removal services in addition to water damage restoration. When you call the team at 911 Restoration of Schaumburg following a flood, our water damage restoration team knows to look for mold infestations and can provide mold removal services if they are needed.
Without a water source, it is hard for mold spores to thrive. Avoid the need for mold removal by receiving water damage restoration services from our team of professionals. Property owners will have peace of mind knowing that the highly trained IICRC technicians are able to provide total property restoration.
Offering Schaumburg Residents Professional Mold Cleanup
Mold infestations can cause allergy-like symptoms, discoloration throughout the property and other signs that water damage restoration services are needed. If you suspect mold has inhabited your resident or commercial property, call 911 Restoration of Schaumburg today for emergency restoration services.
It is important to receive water damage restoration and mold removal services quickly in order to prevent the issue from getting worse. The water damage restoration team is able to provide services like:
Structural drying and dehumidifying
Emergency disaster restoration
Third party laboratory mold testing
Burst pipe cleanup and repairs
Flooded basement carpet removal
Call 911 Restoration of Schaumburg to receive mold removal and water damage restoration services that will have your property back to pre-damage condition in no time.