Water Damage Restoration Schaumburg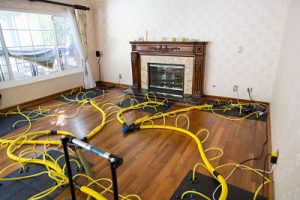 There's no such thing as a convenient time for water damage to strike. Dealing with an emergency restoration situation is stressful for property owners. At 911 Restoration of Schaumburg, our team of water damage restoration experts understand how property owners feel when dealing with issues like a flooded basement. In order to provide property owners peace of mind, our water damage restoration experts have extensive knowledge and training which allows them to combat even the worst water damage issues.
The need for emergency restoration services can occur at any given time. For this reason, 911 Restoration of Schaumburg's water damage restoration team is available 24/7, 365 days per year. When water damage strikes your residential or commercial property, call our team to receive emergency restoration services and get on the path to a fresh start. The water damage restoration team will arrive at the property within 45 minutes of receiving your phone call. They will begin by assessing the property's damage in order to determine the necessary services needed in order to provide complete property restoration.
With 911 Restoration's team of water damage restoration experts on your side, you can rest assured the property is in good hands. The highly trained IICRC technicians use state of the art equipment and drying techniques that allow them to restore even the worst water damage from properties. When your residential or commercial property has fallen victim to water damage, call the team at 911 Restoration of Schaumburg to get on the path to a fresh start.
Signs Your Property Needs Flood Cleanup Services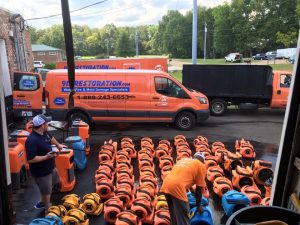 Water damage can come in many forms. For instance, your sewage may experience a backup which causes flooding in the property. Or, a home appliance may be faulty and begin to leak. Each water damage restoration situation is unique and should be handled accordingly. At 911 Restoration of Schaumburg, the water damage team is able to properly identify issues at hand and provide the right services to ensure no further damage will be experienced.
One issue many property owners face when dealing with water damage is the need for flood cleanup. Some people have needed emergency restoration services due to a flooded basement. While others may have experienced the need for flood cleanup due to firefighting efforts. Common causes behind residential and commercial property flooding include:
Broken or burst pipes. When a broken pipe occurs, it only takes a few minutes for water to start flooding a property which can cause the need for serious water damage restoration services. When you notice a leak, it's important to seek help from our team of experts before the issue gets worse.
Poor drainage. When a flood emergency occurs due to poor drainage it can be very stressful due to the potential of ruining flooring, walls and fixtures. So, on top of water damage it can cause some serious structural damage to the property.
Clogged rain gutters. If you are one of those people who never realized the importance of clearing your gutters from debris, the potential of flooding is why. Rain gutters are supposed to help keep excess water from the property but when they are clogged, there's a chance you may experience flooding. You should clean the gutters regularly in order to avoid the need for costly water damage restoration services.
Mother nature. Unlike the above issues, mother nature is a source behind flooding that property owners are not able to do much about. The Schaumburg area is no stranger to heavy rains or harsh storms, so when Mother nature strikes leaving the need for flood cleanup behind, call 911 Restoration.
Flood cleanup and water damage should be handled by experts. When proper water damage restoration services are not received, your property may be at risk for mold infestations. At 911 Restoration of Schaumburg, our team has the knowledge and experience needed to provide proper water damage restoration services that ensure the need for mold removal will not become a problem.
Ready to Provide Mold Removal Due to Water Damage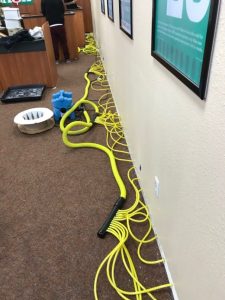 The longer water damage sits, the more of a risk it begins to pose, especially for mold infestations. Mold spores are present everywhere, indoors and outdoors. These tiny spores can attach themselves to clothing and animals, to make their way inside a property. In order for them to thrive and colonize, they need a water source. Which is why water damage restoration services should be given when emergency restoration issues arise.
At 911 Restoration of Schaumburg, the water damage restoration team knows the signs of infestations. They will use the necessary mold removal equipment and techniques in order to safely dispose of the mold. These infestations can cause serious health hazards, which is why mold removal should be left in the hands of our expert team. When you choose our mold removal experts benefits include:
Free visual mold inspection for property owners only
IICRC certified mold remediation
Third-party laboratory mold testing
Structural drying and dehumidifying to water damage areas
Professional mold inspection
A team of highly trained water damage restoration experts that truly care and understand your needs
Get on the path to a fresh start today by calling the water damage restoration experts at 911 Restoration of Schaumburg. Our team is ready to provide emergency restoration services when disaster strikes residential and commercial properties.