Commercial Restoration Schaumburg
Maintaining your daily productivity and protecting the health of your customers and employees is essential for any Schaumburg business owner and that's why at 911 Restoration of Schaumburg we guarantee fast, reliable and affordable commercial restoration services.
Our team is available to perform your commercial services 24/7/365 and can have a team of qualified and trained professionals dispatched to your location in under 45 minutes.
At 911 Restoration of Schaumburg we strive to always work with the most qualified and knowledgeable professionals available in the restoration industry — that's why all of our technicians are IICRC certified, bonded, licensed and insured. The IICRC is a reputable organization comprised of restoration companies and independent technicians who work together to develop and maintain the best and safest methods for water damage and disaster remediation and mold treatment.
Our wide range of commercial restoration services includes:
Water damage restoration
Odor removal
Sewage cleanup
Mold removal
Carpet cleanup
Insulation services
Emergency board-up
Construction
Fire and smoke damage restoration
To schedule or learn more about our full commercial restoration services, call the professionals at 911 Restoration of Schaumburg.
Benefits Of A Professional Commercial Restoration Service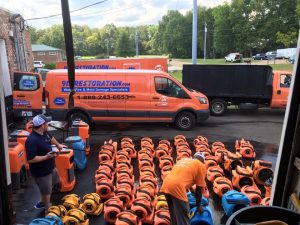 So, why should you hire a professional restoration company for you commercial location remediation and cleanup needs? With the technicians at 911 Restoration of Schaumburg, you can experience the following benefits:
Quick restoration: With the local Schaumburg team, we can have crews at your location in under an hour effectively cleaning water damage, sewage cleanup and performing fire or smoke damage restoration services — getting your business back up and running and avoiding unnecessary productivity interruptions.
Deep and effective cleaning: Professional services have the tools and knowledge to not only adequately remove surface damages, but also remediate issues within the walls and floors that can cause problems later.
Safe practices and best standards: Being a part of IICRC, 911 Restoration of Schaumburg is dedicated to developing the best restoration standards in the industry and safely removing water damage and mold — keeping our team and your employees and customers safe.
Reduced losses and costs: Sitting water can seep into walls and floors causing structural damage. At 911 Restoration of Schaumburg, we evaluate all sites of potential damages to identify any additional problems that could be inconvenient later. We even perform free visual mold inspections, so you can avoid future surprises and health risks.
Insurance company contact: When you experience commercial damages, dealing with your insurance company can be a hassle. For our customers, we will file all insurance claims and handle communications. Our vast industry experience has allowed us to understand all of the requirements insurance providers need and quickly resolve your commercial restoration services.
Trust the Comprehensive, Knowledgeable Team at 911 Restoration of Schaumburg
At 911 Restoration of Schaumburg we understand how unexpected water or fire damages can impact your productivity and we know your desire to clean and remediate these issues quickly, affordably and reliably.
For our local customers, we provide emergency after-hour services and fast team dispatches to get your building back in pristine order and safe for employees and customers.
Call the commercial restoration experts at 911 Restoration of Schaumburg today to schedule services or learn more about our commercial restoration offerings.