Water Damage and Mold Removal in Cook County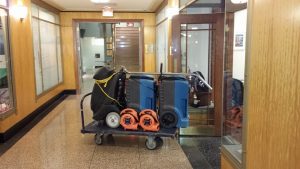 Water damage can strike suddenly and without warning. Whether it's a burst pipe or an ice dam from a winter storm, the damage can be devastating to your property. If left unchecked, water damage can destroy your belongings, warp your floors, and cause structural damage by seeping through the drywall to your support beams.
When water restoration is slow in progress, you open your property to the possibility of secondary damage from a mold infestation. In just 24 hours, the water in your home can breed and spread mold. Mold damages not only your property but also your health. That's why emergency restoration has to happen quickly.
We understand that emergencies can happen at any time, which is why we make ourselves available 24/7/365 so we can respond immediately. Because we are locally owned and operated, we guarantee to be there for our Cook County residents within 45 minutes of your call whether you live in Schaumburg or in Arlington Heights.
If you need water damage restoration or suspect mold don't hesitate to call the technicians at 911 Restoration of Schaumburg for assistance. Get the Fresh Start you deserve today!
Does Insurance Cover My Water Damage
There's no denying that water damage is physically devastating to your property. In the event of flooding, the damage can be catastrophic. However, when right in the middle of the restoration it's easy to forget that the damage can be financially devastating as well. Fortunately, most home insurance providers cover water damage relieving you of a huge burden.
At 911 Restoration, we understand how complicated the insurance process can be. That's why we provide you with an insurance consultation to help keep you as relaxed during the process as possible. Our many years of experience has equipped our technicians with the ability to work with every type of insurance provider. If you find the process too much, we will even file your insurance claim on your behalf. With us, you get to relax knowing that your claim will be submitted successfully the first time.
While we handle your insurance concerns, we also will handle all other aspects of your water restoration. Our IICRC certified technicians use the latest extraction equipment and dryers. In addition, we go into the darkened areas of your home with infrared cameras to make sure we don't miss any source of dampness that would otherwise be missed. Doing so allows us to prevent the possibility of mold appearing.
If you find yourself in need of water damage restoration, don't hesitate to call the technicians at 911 Restoration. We'll be there within 45 minutes to deliver to you a Fresh Start.
Mold Remediation in Cook County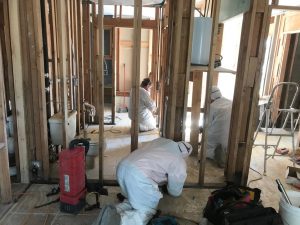 Mold may seem like a minimal concern at first. However, mold is actually one of the most damaging forms of property damage a property owner can face. Mold attacks the property and its inhabitants in two ways. The first way is the property itself. Secondly, it attacks a person's health.
You can easily recognize the effects of mold through its ability to eat at organic materials like drywall, wood, and carpet fibers. One of the signs we look for when detecting mold is crumbling drywall along with a stale and pungent odor. Over time this property damage can affect the very structure of your home resulting in excessive repairs being needed.
For many people, mold is an allergen and cause breathing issues especially if you're asthmatic. If the presence of mold is strong enough, it can also cause headaches and other health concerns. Some mold is actually classified as toxic mold, with the most famous one being black mold.
As part of a full and comprehensive mold remediation, we offer customers third-party mold testing. Your health should never be at risk, which is why we use the latest containment measures and detergents to properly remove the mold and keep it from coming back. Since mold requires a damp environment to grow in, we also perform any necessary water extraction to remove the type of environment the mold thrives in.
Backed by our local operation, the technicians at 911 Restoration of Schaumburg are able to arrive within 45 minutes of your call regardless of your location in Cook County. With our national level resources and top tier talent, we offer water damage restoration and mold removal services that are competitively priced and unmatched in experience. Call us today for your Fresh Start.
Servicing cities of:
Arlington Heights

Hanover Park

Palatine

Schaumburg

Streamwood

And surrounding areas