911 Restoration of Schaumburg Grand Opening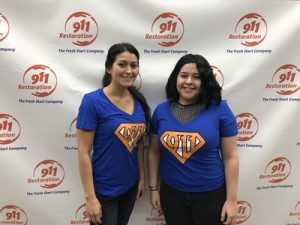 With the grand opening of 911 Restoration of Schaumburg, branch owner Karla can start her mission of spreading positivity throughout the local community.
Karla truly believes that there are no negatives and with the right mindset, the positive can be seen in every situation. She is able to put this belief into action with her husband Richard and niece Brooke by running the new 911 Restoration location.
By being her true, authentic self, Karla hopes to connect with home and business owners in Schaumburg to help them change their way of thinking about their property damage.
When Karla sees a flooded basement, she doesn't see water damage, she sees a newly renovated game room. This way of thinking is what makes up the fresh start attitude that Karla and her team exude on every job they are on.
To Brooke, helping achieve a fresh start after a flooding emergency is done by being a leader and supporting the customer in whatever way they may need. This support system can be as simple as helping a customer understand their insurance company, while others may need their repair workers to come back to the job site and check up on things.
It doesn't matter what kind of support you need, Karla will make sure you get it. She is known for being very hands on, especially when it comes to customer service, which means good news for property owners.
The Schaumburg branch is open around the clock, meaning that home and business owners now have the ability to reach out to water damage restoration technicians who are available 24/7/365. Karla hopes that be being so accessible they will make community members feel secure in the face of a water disaster.
Karla, Richard and Brooke are eager to be your support system when your property is impacted by a water emergency. So, call them literally any time, day or night, and you can be sure Karla will be there, ready to give you the fresh start you deserve.